The paperless way to manage and record staff leave.
Switching to Timetastic makes booking time off work a breeze. No more dealing with paper forms and updating messy spreadsheets. You get a central, up-to-date record of absences, so you can plan better, and work smarter.
Book a demo
The #1 staff holiday planner for over 8,500 businesses
No spreadsheets. No forms.
Timetastic works anywhere there's a screen. Say goodbye to stacks of paper and confusing spreadsheets, and say hello to easy-to-use apps and email notifications. Simple.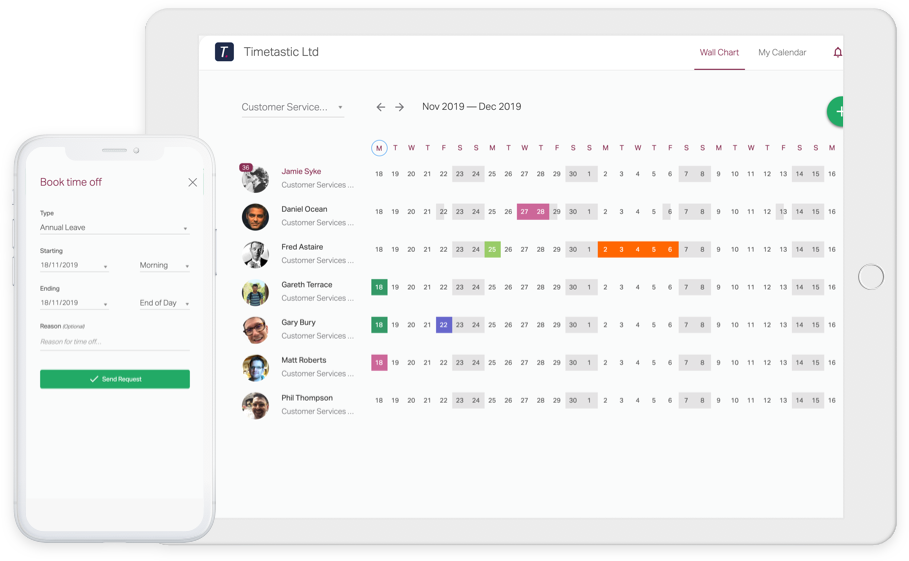 Personal
calendars
Each staff member gets their own calendar, with a summary of their time off for the year. They can plan ahead, look back on where they used their allowance, and see how much time off the have left. The summary is always bang up to date.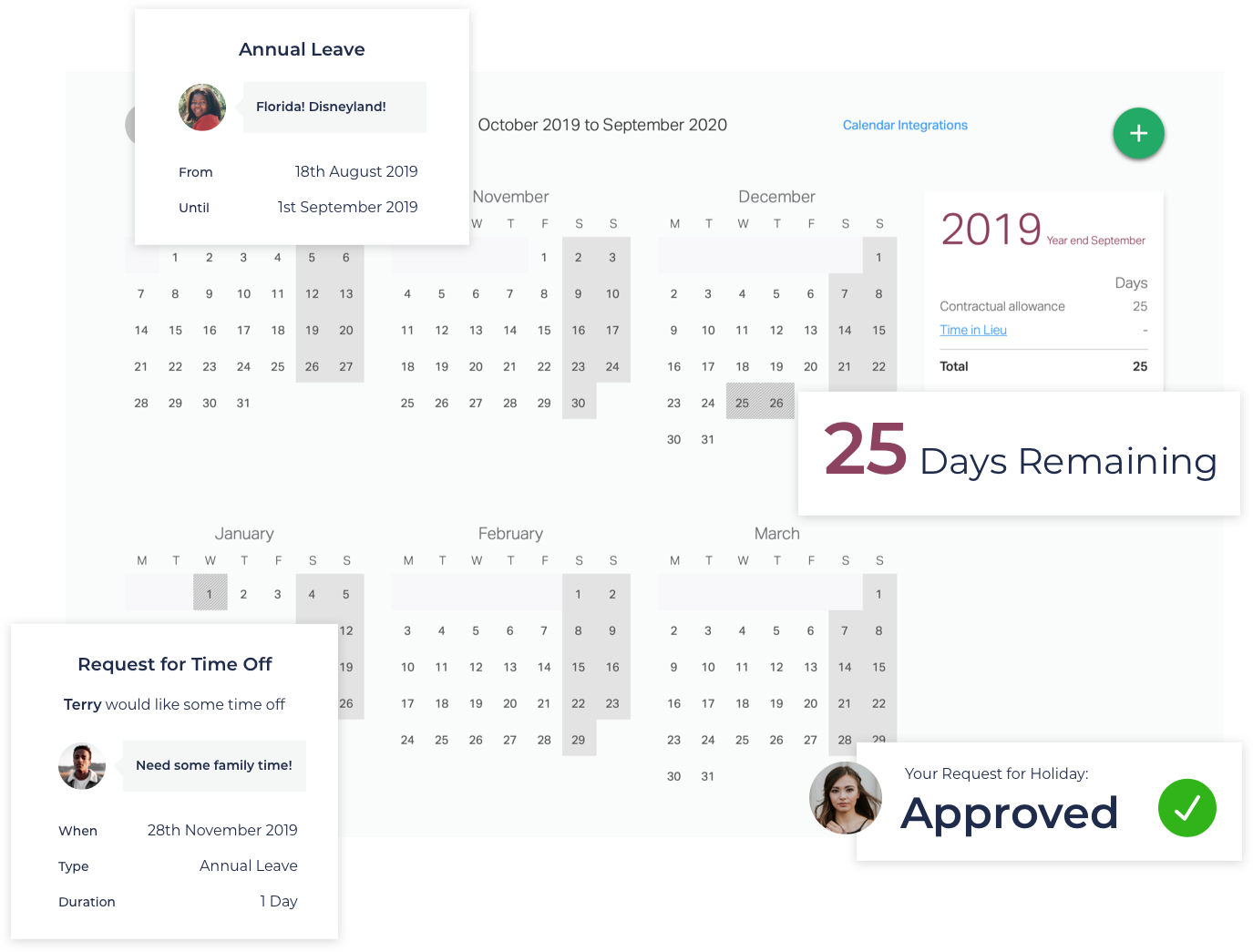 Companies who choose Timetastic become
better places to work

.
Law firms, marketing agencies, hairdressers, charities — businesses of all shapes and sizes choose Timetastic. They understand the importance of time off,  and know how to keep staff motivated and productivity high.
'Timetastic is a win/win for us. It does the job of annual leave booking fantastically well.'

Gavin S. Technical Operations Director

'Our entire leave policy pretty much just references, "use Timetastic".'

Margaret A. HR Manager

'Time off becomes a discussion at home, leaving the office free to do work.'

Chris B. Director

'We love how simple it is to book a holiday request both from desktop or mobile'

Nedjalko M. CTO

'We have reduced the chore of recording absences from a six stage process down to two.'

Andy N. Operations Director

'We have removed the possibility of holiday forms not being completed or being lost.'

Chris S. Operations Director
The 5 star reviews just keep coming
I like the fact each day you a message appears to let you know who is in the office and who is out so very usefu...
Denise Kiely
Quick and straightforward - does the job
Sarah Lebentz
Learn more on the blog
The CIPD defines it as: 'a planned and systematic approach to enabling sustained organisational performance through the involvement of its people'. In English, this means giving employees opportunities to be successful so that they benefit as well as the company. .

Here's a short guide to what discrimination actually is and how you can deal with it in your company, whether you're a manager or an employee..

Baby names, what cot to buy, organising your first scan – there are a million exciting things to think about when you find out you're pregnant. What happens to your pay if you get sick shouldn't be one of them..
Let's get started!
Doctors, web design agencies, car dealers, online retailers, charities, coffee roasters - over 8,500 businesses just like yours manage their team's absence with Timetastic.
Start your free trial
Book a demo