Absence management
software
It's official. Paper forms and spreadsheets aren't up to the task, you need absence management software that works for your team and their managers. That's where Timetastic comes in.
Start free trial
Free for one month - no card required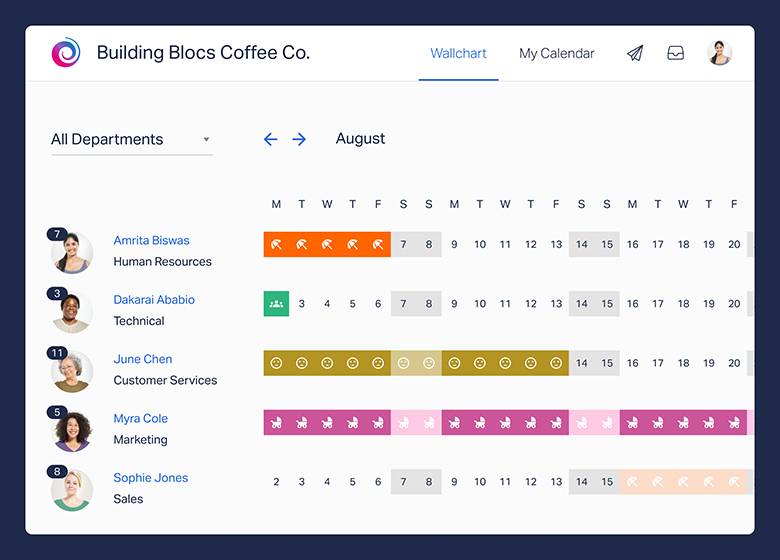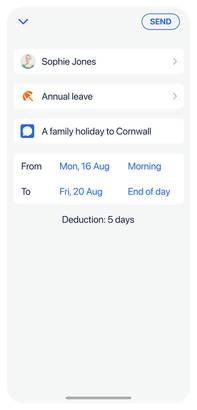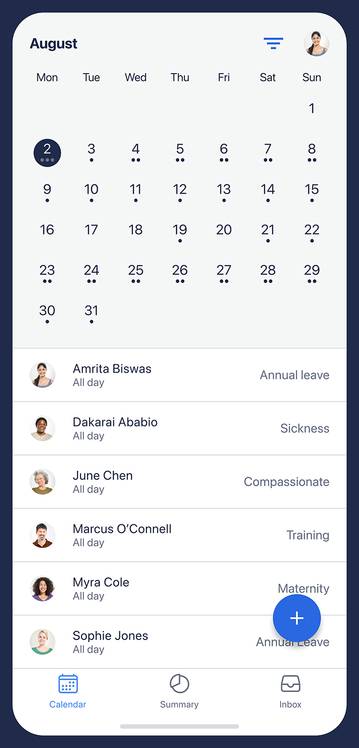 Instead of messy paperwork,
upgrade to: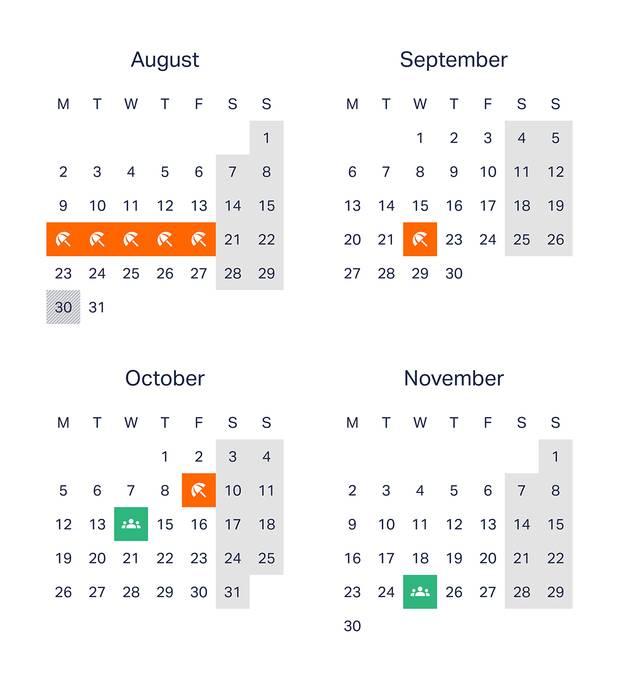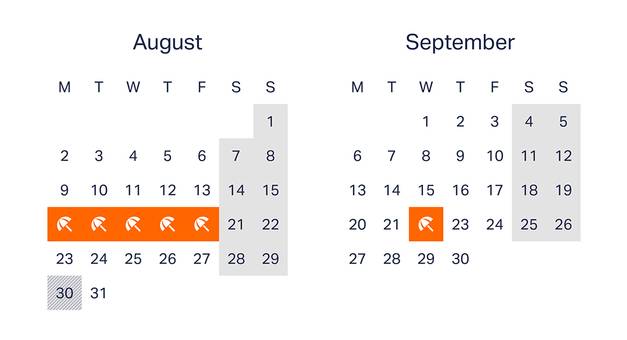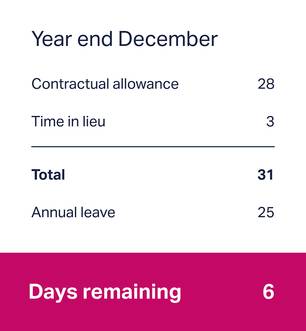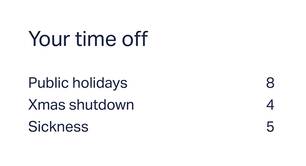 Personal calendars
All your team get their own personal calendar and annual summary. They can see and track their absences and plan their year ahead. Finally, they get a clear picture of when and why they are absent from work.
Using Timetastic's calendar integrations they feed all absences instantly into their regular work calendar. A big step up from those holiday forms and outdated spreadsheets.
App & email notifications
Rather than messing with bits of paper and spreadsheets, Timetastic gives you a single place to manage absence within your business.
Users request absence from the desktop or mobile app, managers can approve or decline direct from email and everything is instantly tracked and summarised on the calendars.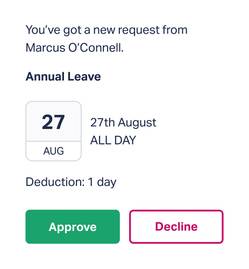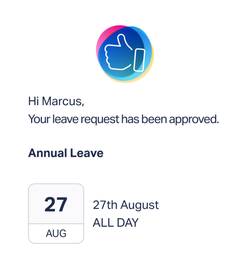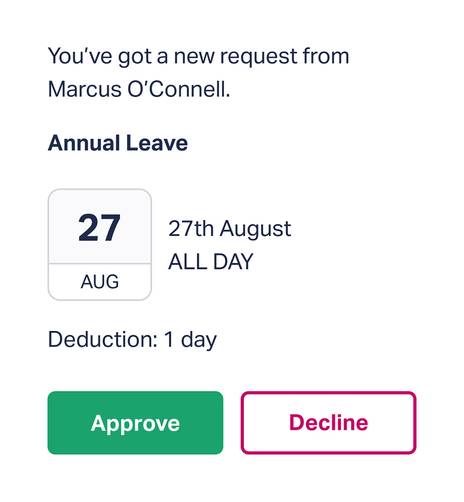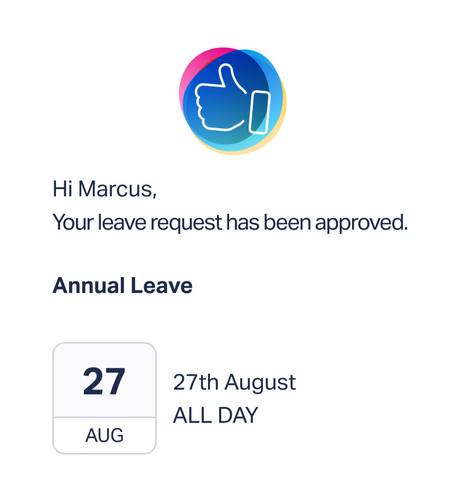 See clearly, who's off and when.
Your new interactive wall chart is key to improving absence management. It puts up-to-date absence information at your fingertips — your new at-a-glance view of who's absent and when. Use it to plan better, make sure busy periods are covered and avoid awkward clashes.
Your team
Book time off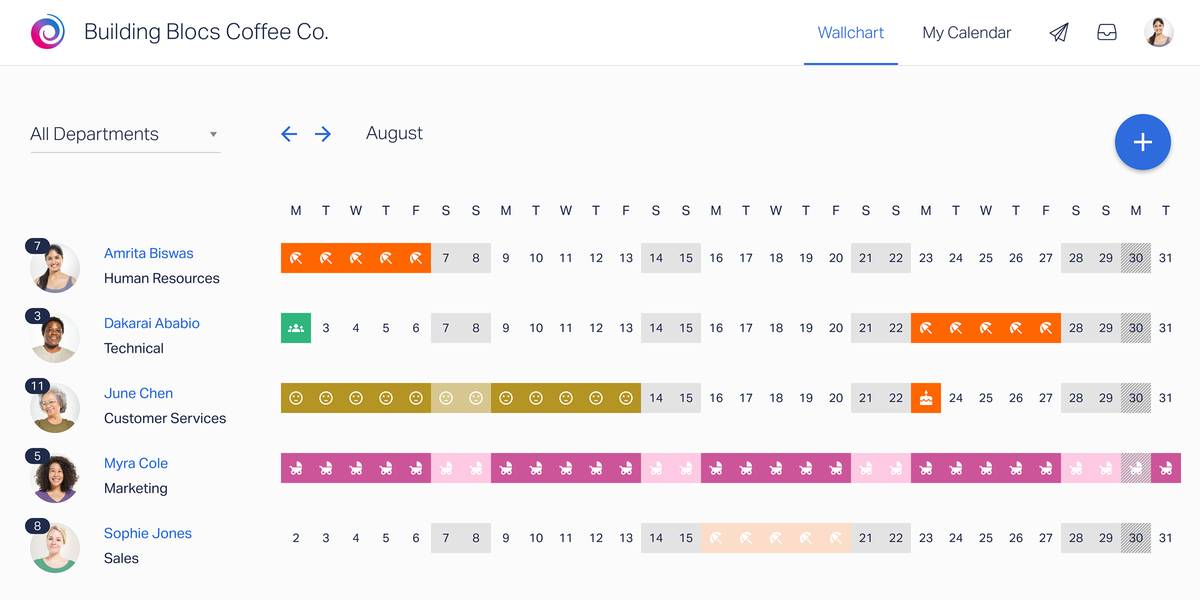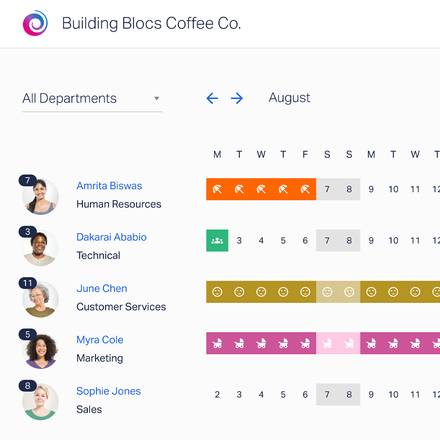 Pending request
What makes Timetastic so special?
It's everything you need, and nothing you don't. For over 10 years, we've been building the best absence management software for small businesses. If you want absence management software that's simple and easy to use, you have to double down on making sure each and every feature fights for its place. We all know software apps that are so jam-packed with features they are almost unusable — that's not Timetastic.
Over 400,000 people have booked time off work using Timetastic. They've used it, tested it, and fed back to us. We've seen their pain points, tweaked, simplified, and refined. It's the gold standard now. You only need to read some of the thousands of positive reviews:
Richard nails it: "Timetastic has taken the burden of absence management away."
And Robin, who puts it so perfectly: "Beautifully simple."
Timetastic works because it's a single place for all your absence management related tasks. It's where you make your holiday requests, where you record sickness absence or any other staff absence. You can identify absence trends, it updates your calendars, it keeps track of annual allowances. All those employee absence related tasks that you currently use spreadsheets and calendars for, that's what Timetastic replaces. And it's all wrapped up into one simple piece of software - on your desktop and a native mobile app, where everyone has access to the information they need.
Who uses Timetastic for absence management? Legal companies, accountants, marketing agencies, software developers, hairdressers, health centres and doctors surgeries, charities, manufacturers, retailers, transport and delivery companies, IT firms, builders, churches. Tiny micro enterprises with two entrepreneurs, startups, small to medium businesses and teams at some large multinationals and household names. Every country, every continent.
So do it, have a go, see what all the hype is about for yourself. It's time to upgrade to a decent absence management system and save yourself from the pain of spreadsheets and constant interruptions. Time to get organised, streamline, and get some visibility in your absence management system, and save yourself a whole heap of time.
A full set of features, so you can
manage time off properly
You'd like a day off?
To manage absence better you can group your staff into departments, set minimum staffing levels and highlight clashes before approving requests for time off.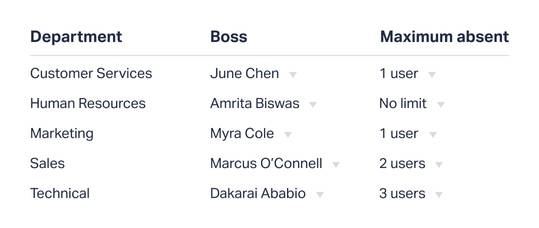 For what reason?
Handle all types of absence - holidays, sickness, maternity, paternity, unpaid leave, compassionate, create your own custom absence types.
Annual Leave
Sickness
Maternity/Paternity
Sabbatical
Doctors Appointment
Seasonal Shutdown
Compassionate
Away Day
Training
It's a bank holiday
Timetastic comes pre-loaded with public holidays from over 250 countries and 3,000 regions. All you need do is assign the relevant country to a staff member and their calendar is sorted.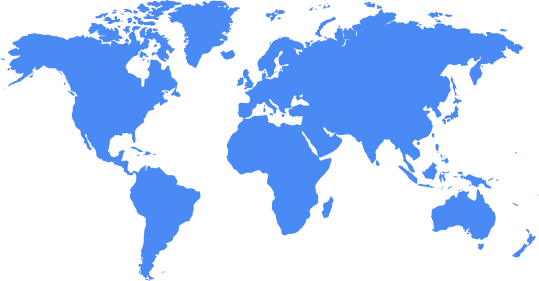 Who's working?
Create a work schedule for each of your team. You'll be able to see who's working and when. No more, "Who's in next Tuesday?" you've got a schedule everyone can see and plan from.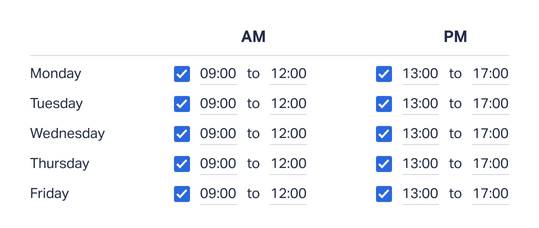 Frequently asked questions
How does absence management software work?

What absence management software does is take all those different pieces of the jigsaw puzzle to arranging time off work — spreadsheets, paper forms, a shared calendar, and maybe back-and-forth on email. And puts it all into one single system that's always up to date. A single source of truth, full visibility.

So when your employees request a day off, all your calendars are instantly updated, the reasons for employee absences are tracked, you can then identify patterns, report on them and spot absence trends if you need. Holiday allowance is tracked and reconciled, all your employees can see how much time off they have left and when they took time off. A whole lot of visibility that you can't get from spreadsheets.

Will absence management software save me time?

Certainly will. In fact, saving time is the number one main benefit that our customers get from using Timetastic.

The first big saving is that your employees request time off in the desktop or mobile app. So they don't have to pester you with questions or start a back-and-forth on email.

Next, you'll have all those employee holiday requests and bookings instantly show on your calendar, so you can see which employees are off and when. You don't need to update a spreadsheet or record of how much sickness they have taken or how much holiday allowance someone has left. All that is done for you, instantly. Just think about how much time that saves, and how many interruptions it'll spare you?

What type of absences does it cover?

Absence management software helps keep a record of any type of employee leave you can think of. Holiday entitlement, sick pay, sickness tracking. You can record maternity, paternity, compassionate and bereavement leave, anything you want. You can create as many different types of employee leave as you like in Timetastic.

Do I need to download or install anything?

Timetastic is cloud based, online software, so you can login form any computer, anywhere. You've also got the mobile app, so if you have employees that don't work at computers or in an office, as long as they have a phone they'll be able to record their days off. Your business process and holiday calendars will be updated in real time.

Is it easy to implement?

Very easy yes. Most of our customers are setup to monitor absences within an hour or so.

It's a simple case of signing up and working through the settings pages, we've also got a quick start guide to take you through the process in less than 10 minutes.

Will my employees like it?

We're confident they will. You've got over two and a half thousand reviews to read here, and at the time of writing, 92% of users recommend Timetastic. You can't go far wrong with numbers like those. 😀

How much does Timetastic cost?

Timetastic is priced on a per user/employee basis and paid on a monthly subscription. As it's a subscription there's no long term contracts or tie-ins, you can cancel anytime you like. You can view our current pricing here.

We also have a good causes discount scheme - 50% off for charities, NHS Trusts, B Corps, 1% for the Planet Members, or Fair Tax Mark companies.

More questions?

Take a look at our Help Centre for detailed articles on getting the most for Timetastic or contact our friendly Support Team.
Happier with Timetastic
Read how people like you use Timetastic. Their stories tell us how they took control of absence management and became healthier, happier places to work
View customers
Book a demo
Mobile apps

too

Your team can make use of the mobile apps to book an absence. No need to be in the office, everything is instantly tracked and reconciled.
200,000+ people use Timetastic
Timetastic has been helping people book their holidays since 2012. Doctors, web design agencies, car dealers, online retailers, charities - over 8,000 teams and small businesses just like yours.
Start booking holidays now
Free for one month - no card required